A merchant cash advance is a quickly growing method of funding a business. It is among one of the most preferred methods of funding due to several benefits associated with it. Moreover, ever since the traditional banks have ceased funding small businesses owing to their poor credit ratings, merchant cash advances have come out to be an effective solution.
Though the MCA industry is booming right now and has attracted millions due to its beneficial features and easy loan process, merchant funding providers face difficulty in finding prospective clients. Thankfully, MCA leads lists exist that help you reach the targeted market efficiently. Having access to merchant cash advance mailing lists provide you with complete information about businesses looking for alternative funding sources and how you can target them. But, have you ever wondered what would compel your targeted MCA leads to opt for this type of funding? Did you know that your targeted leads may want to know why they should go for merchant cash advances?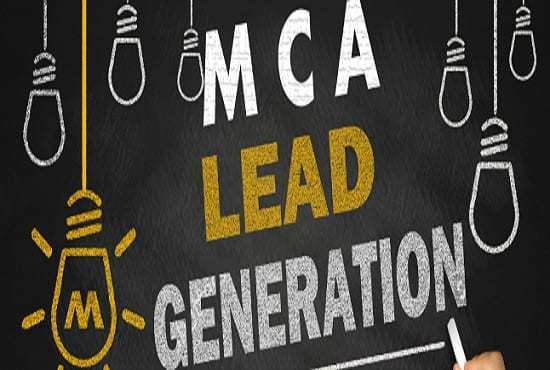 So, illustrating the benefits of MCA funding will help you compel your targeted prospects to buy merchant cash advances from you-
MCA funding is easy and quick– MCA funding is an easy, straightforward loan process from start to finish- one of the main features that will attract merchant cash advance leads. Also, this business loan is often described as immediate cash because there is very little paperwork. The traditional banks analyze a number of things including financial statements, business plans and tax returns, etc. while a merchant cash advance follows a simple criteria considering only two things- monthly credit card returns and length of time in business.
No credit or collateral– A merchant cash advance is a safe approach to funding a business. Unlike traditional business loans that can affect a business' credit rating when there is an issue in repayments, a merchant funding is a sales transaction and thus stays off the credit report. This is an important reason why your targeted MCA leads would consider merchant cash advances over other traditional loans.
High Approval Rate– The merchant cash advance depends on the actual business performance instead of credit to assess applicants who have requested a loan. This practical approach allows any stable business to qualify for an MCA. So, telling prospects how a merchant cash advance makes an ideal funding source for their need of capital will help you pitch loan leads successfully.
Fair-minded repayment methods– While a traditional bank loan requires a fixed monthly payment, the merchant cash advance repayments are a percentage amount of total credit sales, which can fluctuate based on sales volume. When sales are more, the MCA retrieves a higher monthly sum; and in lean times, MCA recoups its funds accordingly, keeping in the mind that the repayments do not drain business funds. This is an important reason why your MCA leads will consider merchant cash advances over other traditional loans.
SEE ALSO: Want a Boost in Your MCA Business? Getting a Fresh UCC Leads List Is the Right Way to Sell MCA Loans
When a business is in need of a quick cash infusion, a cash advance is the best alternative. And, having access to a merchant cash advance mailing list will help you reach your potential customers efficiently. Merchant Financing Leads is one of the trusted names providing high-quality leads lists that help you reach your target customers well-prepared. Get in touch today!